We deliver more than just your luggage
The wave of sophistication and diversification of what is required of the logistics industry is coming in. In order to be able to ride this wave well, our company understands what is needed. Our motto is to grow with our customers, and we strive to do that every day. Customer satisfaction is our number one priority. We strive to serve our customers while determining what is changing and we change with it. We aim to be a one-of-a-kind company that deliver the best service possible and to trusted by everyone.


Company Profile
From our CEO
Along with major changes in society, the logistics industry is constantly in need of change and evolution. Therefore, to become a bridge in logistics, it is important to identify needs and respond quickly to raise the quality of our services to satisfy our customers. In order to do that, our drivers are essential. We value our drivers and work together with our employees to create a safe and comfortable work environment. We will continue to evolve, aiming to be a one-of-a-kind company that is trusted as a customer's best partner, on a foundation where each employee's mind and body are healthy.
Tomoyuki Onji, CEO
Company Information
Company Information
Company Name

:
Kakushin Transport Co., LTD.

President

:
Nobuyuki Iwaki

CEO

:
Tomoyuki Onji

Operations Officer

:
Kazuhiro Tateishi

Manager

:
Isao Iijima

Headquarters Location

:
394 Kuratomi, Naka-Ku, Okayama City, Okayama 703-8264

Phone Number

:
+81-86-274-7217

FAX Number

:
+81-86-274-7218

Year Established

:
1992

Capital

:
¥150,000,000

Year-End

:
March
Primary Services

:
general local and long-range transport / Industrial waste collection and transport

Service Locations

:
Headquarters Office Okayama / Hiroshima / Tsuyama / Hyogo

Number of Employees

:
123

Number of Vehicles

:
107(10t: 89, 4t: 15 / 3t: 3 / All vehicles have Front Drive recorders and rear backup cameras)

Affiliated Companies

:
Houjyouji Transport / HK Auto Service / Itomosu / Seihou Industrial

Primary Customers

:
Sagawa Transport / Okayama Freight Transportation / Chuo Chemical / KINBUTSUREX
Company History
1992

:
Began offering services in Tsuyamaguchi

1998

:
Moved headquarters office to Hirosaka

1999

:
Opened Fukuyama Office

2004

:
Moved headquarters office to its current location in Okayama, opening an office there

2007

:
Opened Hiroshima Office

2014

:
Opened Hyogo Office

2016

:
Changed from a Limited Liability Company to a Corporation

2017

:
Began selling tires for trucks and semis
Initiatives・Truck Information
Initiatives
Based in Okayama Prefecture,
we transport goods mainly between the Kinki
and Chugoku regions of Japan.
We provide local and long distance logistices services to a wide range of customers. By cooperating with group and partner companies we strive for customer satisfaction by providing high quality, detailed, and dependable service with an extensive network.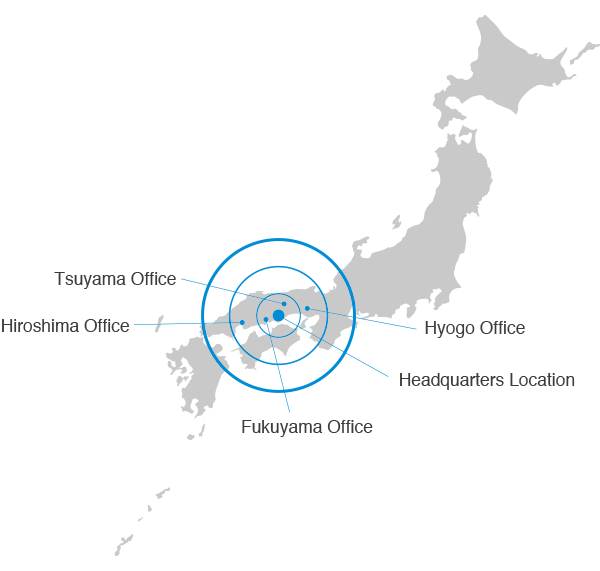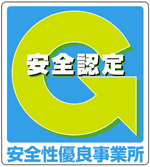 Ministry of Land, Infrastructure, Transportation and Tourism Certified "Safety Excellence Office".
We aquired the "G Mark", which is based on three criteria: safety compliance with laws and regulations, accidents and violations, and aggressive safety initiatives. We also continuously work to further improve customer satisfaction.

Ministry of Land, Infrastructure, Transportation and Tourism Certified "Safety Excellence Office". What is the Certified Safety Excellence Office (G Mark)?

The All Japan Trucking Association, a nationwide cargo transportation optimization project executing agency, evaluates truck transport operators' efforts on road safety measures and other measures at each business establishment, and recognizes business establishments that have cleared certain standards of the cargo trucking business. The cargo transportation business safety evaluation project aims to make it easier for customers to select a more secure cargo transport operator and to raise the awareness of safety improvement thoughout the entire business. It is a system to properly evaluate, certify and announce safety.
Truck Information
Truck
Size
Bed
Height
Truck Type
Head
quarters
Tsuyama
Hiro
shima
Hyogo
10t
Low
Wing
30
15
14
5
Wing Gate
7
8
1
0
Van
2
0
0
0
Mid
Wing
2
2
0
0
High
Wing
3
0
0
0
4t
Wing
2
1
2
0
Gate
4
0
0
0
Van
4
1
1
0
3t
Van
3
0
0
0
Total
57
27
18
5
*As of 5/2020
Facilities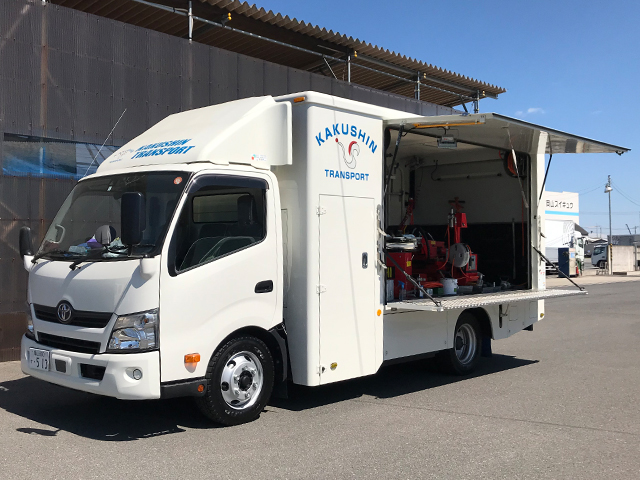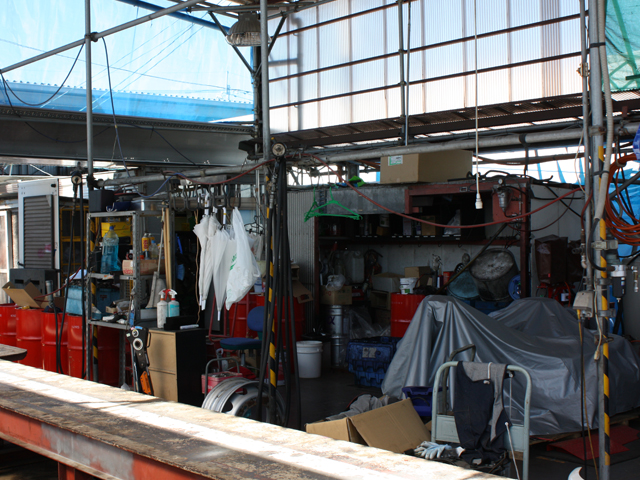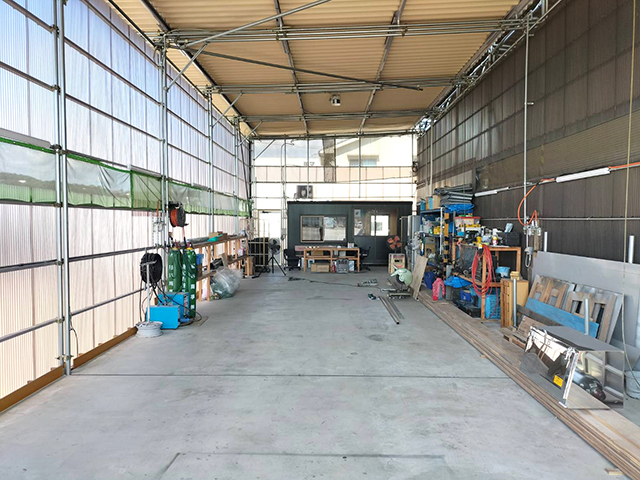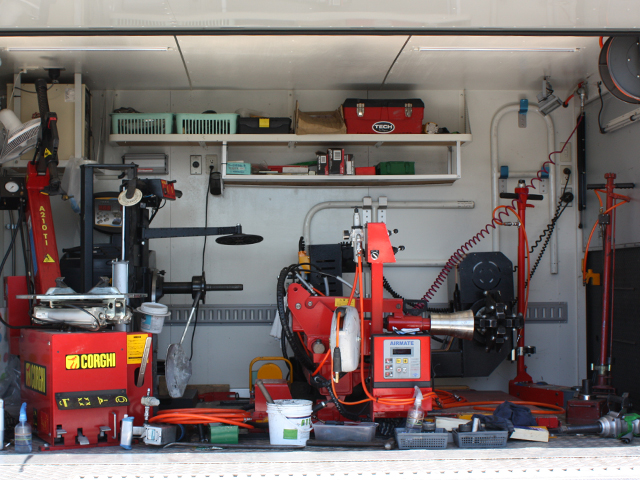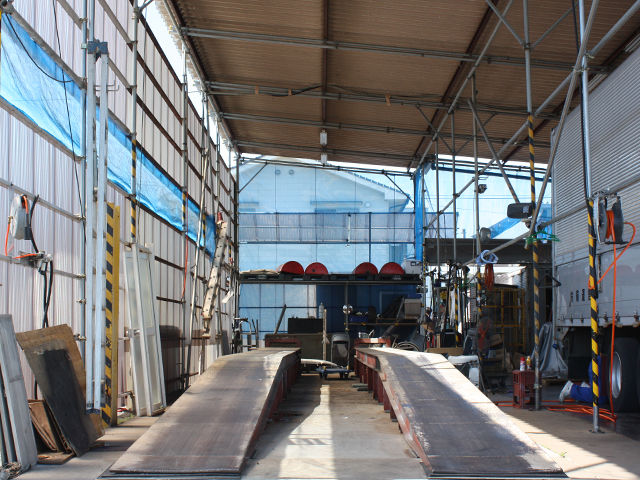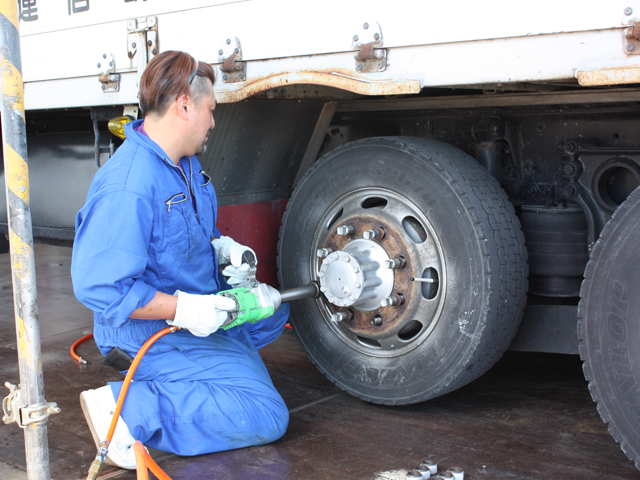 ■Headquarters Location
Fuel Tank: 20KL
Vehicle Pressure Washer: 2
Maintenance Shop
Tire Change Machine: 1
Mobile Tire Change Vehicles: 2
(Dedicated Service Staff: 3)
■Tsuyama Office
Fuel Tank: 20KL
Vehicle Pressure Washer: 2
Maintenance Shop
Tire Change Machine: 1
(Dedicated Service Staff: 2)
■Hiroshima Office
Fuel Tank 30KL
Vehicle Pressure Washer: 1
■Hyogo Office
Vehicle Pressure Washer: 1
Contact Us
After you submit the following information, someone will contact you as soon as possible.
Normally within one business day.
(Please confirm your contact information as we may not be able to contact you in any information is incorrect.)
The following is the privacy policy of Kakushin Transport Co., Ltd. (hereinafter, 'we') with regards to handling personally identifiable information. We comply with all laws and regulations regarding the protection of personal information, and properly acquire, use and manage that information.

When acquiring personal information, we will identify the purpose of use and acquire it within the limits necessary to achieve that purpose.
In addition, when using personal information, we will use it within the scope of the purpose of use that has been explicitly stated, notified or announced to the person or business providing the information.
We will not provide or disclose personal information to a third party without the prior consent of the customer.
We will perform appropriate safety management for personal information and, when entrusting the processing of personal information to a contractor, supervise that appropriate safety management is performed.
When a customer makes a request for disclosure or correction of personal information, we will properly respond in accordance with the provisions of relevant laws and regulations.
Regarding the handling of personal information, we will continuously review it and strive to improve it.

Below you will find frequently asked questions regarding recruitment.
Please feel free to contact us if you have additional questions.
Q&A
Q. What are Kakushin Transport's strengths?
A. You can trust us, because all of our work is managed and scheduled to get to its destination on time.
Q. Do you recruit female drivers?
A. Yes, we currently have 3 female drivers.
Q. What qualifications are needed for hiring?
A. Medium-sized or Large-sized Vehicle License, as well as a forklift license is helpful.
Q. What kind of insurance do you provide?
A. We provide health insurance, workers compensation insurance, and employee pension.
Q. What kind of materials do you handle?
A. We primarily work with major couriers, supermarkets, and drug stores.
Q. How are employees assigned?
A. Employees are assigned to an office near their home.
Q. What qualifications can be acquired while working?
A. We support obtaining large-sized vehicle licensing and forklift licensing.
Q. What about holidays and pay?
A. Pay is dependent on the course assignment. Employees have one or two days off each week.